UK adspend grew to 10.3 billion in 2016, that's up 17.3% and the fastest growth in nine years. Figures were released this month by IAB UK and PwC that show that mobile, unsurprisingly, plays an integral role in this growth.
With almost half of UK internet time spent on mobile, users are watching more and doing more on their mobiles and advertisers need to tap into this. The key digital ad formats were set out as video, social media, content/native, display and search. All formats show mobile adspend as the high-riser, but it's mobile video spend that's grown the most.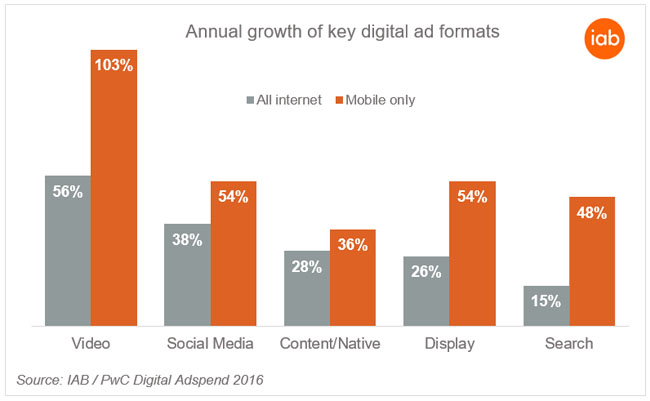 Adspend as the way forward, or an over-investment?
"The rise in people consuming mobile and video content has accelerated digital's growth rate to its highest level for nearly a decade," said the IAB UK's Chief Marketing Officer, James Chandler. "Reaching the £10bn threshold has been made possible by brands breaking the mould, trying innovative formats and making the most of video to reach and amaze people. It's impossible to ignore the issues the industry is facing at the moment, but digital never stands still and these figures are testament to the long-term strength and power of digital."
However, Mark Jackson, managing director at MC&C, said marketers should be wary of over-investing in digital. "It is important that advertisers match the media consumption patterns of consumers, and with 48% of UK internet time now spent on smartphones there's no doubt brands will continue to invest in mobile advertising," Jackson said. "However from a performance perspective, marketers should be wary of over investing in digital and reaching the point of diminishing returns as a result. True performance media focuses on integrating online and offline channels as part of a wider strategy, and reaping the rewards of the cross-channel media effect."
Adspend and your small business
With over five million businesses advertising on Facebook each month, social media is becoming a very accessible route for small businesses to advertise. Yet however a small business may choose to spend their advertising budget (if indeed they have one at all!) ensuring to adapt the ads for mobile is a must. And that doesn't only refer to format and placement but also content and behaviour – particularly in terms of local. Advertising trends go further than the more obvious routes we've mentioned here and may also involve influencers, personalised content or data for example.