Starcom's recent Media Futures report revealed a number of interesting customer experience (CX) statistics, based on businesses in Austraila.  The diagram below highlights businesses, by sector, and the percentage difference from where they rate their customer experience and where their customer's rate their customer experience. So for example airlines rate their customer experience 61% higher than customers rate their own experience with the airline. This means there is a huge expectation gap between businesses and consumers.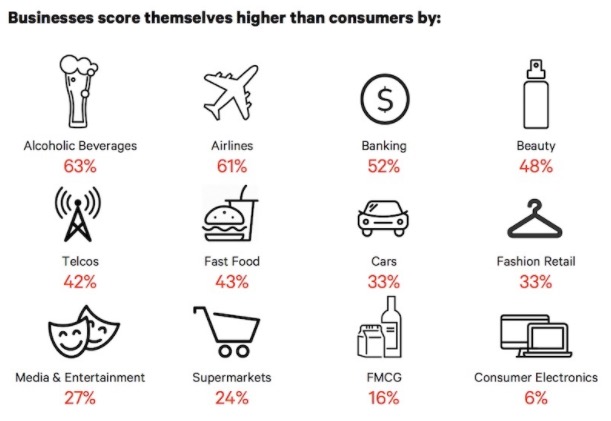 David Thodey, Former CEO Telstra explains in the report that "for any organisation, really being externally focused, really understanding the value creation that you have and therefore what the customer view is, is really essential." The report explains that businesses are still prioritising the value of the transaction over the customer experience. It identifies personalisation and data to be a key part of this, and the need to use data to uncover real human motivations.
Marketing Week took an in-depth look at Marks and Spencer, Hyatt and some other big brands to see what could be learnt from these brands in terms of customer experience. Global director of loyalty, customer insight and analytics at M&S Nathan Ansell said "We have made changes to our structure that help provide a more seamless customer journey. For example, we have integrated each channel's merchandising operations so there is greater 'symmetry' across the experience for customers. We are moving to a 'self-serve' model for data, so that the business can use the valuable insight from the customer team more easily and make more informed decisions leading to an even better customer experience." However Ansell also stressed the importance of creativity and the need for a problem-solving attitude saying ""We don't just need 'big data', we need 'big insight' that we can turn into 'big actions'."
At Hyatt their CX focus is centred around their loyalty programme, brought to life in their TV ad with the strapline 'For a World of Understanding', as it looks to "connect on a deeper level" with customers and "inspire irrational loyalty". For credit score check firm ClearScore CX focus is on their internal organisation with the creation of "factions", smaller self-run cross-functional teams responsible for the end-to-end management of a feature or aspect of the service. This approach aims to deeply embed teams and individuals in the products or services, giving them responsibility, and customers are therefore not bounced from one department to another. ClearScore also regularly analyse customer reviews on various platforms to generate ideas to overcome friction in the customer journey.